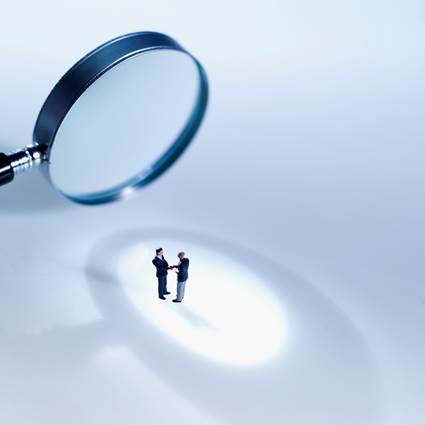 You're always hearing about employers doing research on the candidate before and after interviews, whether it is Google, Facebook, Twitter etc. There have even been instances where the interviewing company has asked for the candidates' Facebook password so they can look at their photos. Nothing can be more intimidating and embarrassing for that matter, then having to show the interviewer your drunken photos from college.
If you haven't cleaned up your social media platforms before you interview you're playing with fire. It's pretty important to make sure that your social media profiles don't show you in a bad light. Cleaning up your online presence is one job, but your other job is to conduct a thorough investigation and research on the company and your possible interviewers. All companies tend to leave a trail of who they are, what they do, why you should work for them and so on. Doing research on the company will let you gain valuable insights into the company culture and growth potential. Research can give you the deciding edge when it comes to the interview process, and we all know that every little bit counts.
1.      Company Website
The company's website will tell you a lot of what you need to know for the interview. It will most likely tell you the company history, mission, team members, milestones, and future endeavors. When it comes to the interview process, you'll have a better understanding of where the company is coming from and what they are looking for in the future.
2.      Google Search
Ahhh the almighty and powerful Google! Where things you thought were deleted or buried are actually still traveling the internet. Through Google, you'll be able to search company blog posts, company news articles, and anything related to the company. You'll be able to search the company and see good stuff, and even the bad stuff. Maybe the company published a press release. The press release could be a good topic of conversation in your interview.
3.      Company's Social Media
Following the company's social media platforms will show them that you are interested in the position and working at the company. What kind of updates are they posting? Who is following their accounts? Are people interacting with them? Dissecting their social media presence will let you know the voice and tone of their company.
4.      Find Reviews
If you are a company that does not perform well, or doesn't have good customer service, you are most likely going to get a bad review online. You can search Career Bliss, Glassdoor, Indeed, or even Yelp for online reviews that people have posted about your potential company. Find out what employees and individuals have to say about the company. You can get a good insight into some of the work expectations and conditions.
5.      Find Someone in Your Network That Works at the Company
It might not be easy to find someone that works at the company with whom you are interviewing. Check your LinkedIn account for any connections that are currently working or have worked for the company you are trying to find information about. If you ask the right way, you may get great insight into what they ask on interviews, or the culture of the company. Most people like to help if they can.
---
One of the few things you can control in an interview is how prepared you are. Taking all the necessary steps to find out all you can about the company is the first step in getting the job and doing well on your interview. Good luck!