March is definitely my favorite time of year. My birthday is in March, it's the start of Spring, the baseball season is just around the corner, and best of all…it's March Madness. March Madness is when a field of 64 college basketball teams (68 with the play-in games) compete in a national tournament. Upsets, buzzer beaters, and tradition rule the NCAA tournament. About 58 million people nationwide fill out brackets. Every year you put in research, time, and effort to make the most educated picks only to get beat out by someone who picks the winners based on their team mascot. I have Louisville winning this year in case you were curious.
Today marks the first day of the NCAA tournament. Each game can be streamed online, watched on your phone, listened to on the radio, or seen on the conference room televisions. Along with March Madness comes the lack of office productivity. Instead of creating that excel spreadsheet or balancing that budget, you're too busy watching Oregon upset Oklahoma St. (Yes, that's my 5 -12 upset) Each person will watch about 1.4 hours of march madness during office hours. There will be approximately $175 million lost during March Madness. If you are seeing a decrease in the speed of your network during the first 4 days of March Madness, that's because there is 3.4 million hours of game footage being streamed online. About 37% of offices see their network slowed down due to online streaming of the games. As you can see, offices go mad during this time of year.
Check out this infographic on the effects of March Madness on office productivity.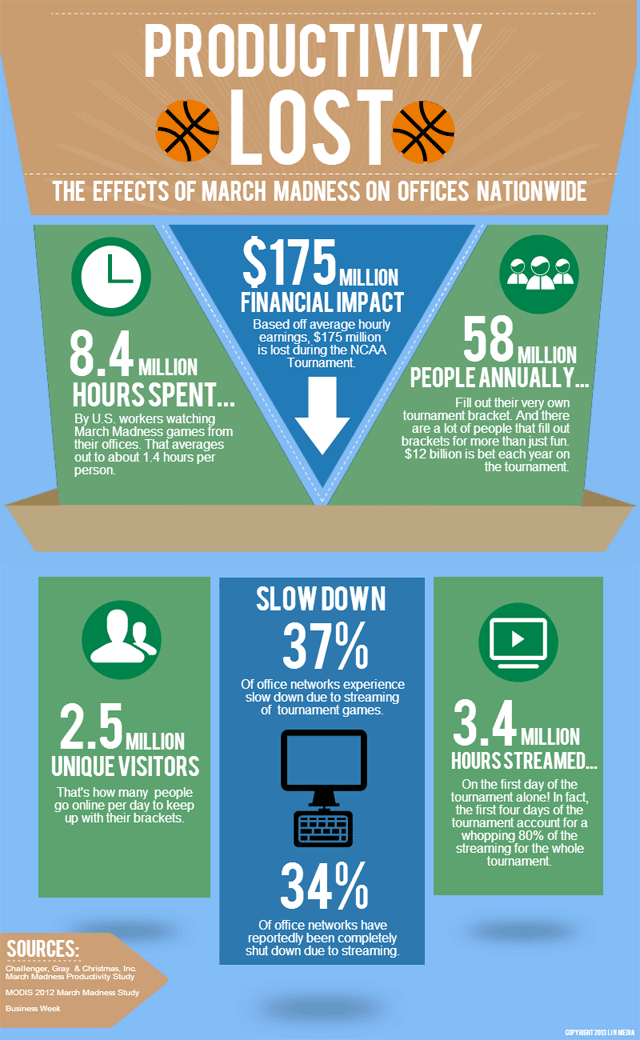 Do you plan on watching any of the games during work hours? Who do you have winning it all? Let us know in the comments section below.