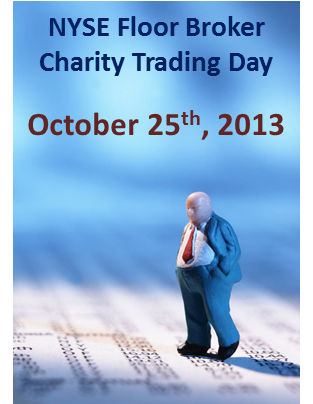 Each year, the New York Stock Exchange (NYSE) takes part in the Floor Broker Charity Day. So when is the NYSE Annual Floor Broker Charity Day? This year it will take place on Friday, October 25th, 2013. The Floor Broker Charity Day is when all net transaction fees on orders executed by floor brokers in NYSE and NYSE MKT securities will be donated to St. Jude Children's Research Hospital. St Jude is one of the world's premier centers for the research and treatment of pediatric cancer and other life-threatening childhood diseases.
In a statement by Joseph Mecane, Executive Vice President and Head of U.S. Equities at NYSE Euronext:
"The New York Stock Exchange is proud to support St. June Children's Research Hospital. St. Jude Children's Research Hospital works tirelessly to find cures and save children and we thank our customers, Designated Market Makers, brokers and the entire exchange community for coming together to support this very worthy cause."
The NYSE Closing Bell will be rung by St. Jude patients and their families.
The NYSE Floor Broker Charity Trading Day complements other charitable and volunteer efforts of NYSE Euronext markets worldwide. The NYSE Trading Floor community has strong and longstanding commitment to charitable causes, hosting various fund-raising events throughout the year.
Source: nyse.com