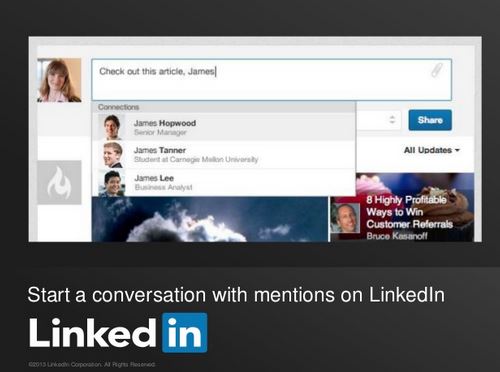 LinkedIn has rolled out a new feature that allows members to mention companies and connections in their status updates. This will allow LinkedIn members to engage even more on this growing professional network.
Here's how it works:
* Begin by typing the name of a connection or a company in your status update box or a comment field on the Homepage.
* Select someone from the list of your connections that appear in the drop-down, complete your status or comment and post it.
* The person or company you mentioned will receive a notification alerting them that they have been mentioned.
In addition to first-degree connections, you can also mention other LinkedIn members engaged in conversations in the comment sections of posts on the LinkedIn Homepage. Mentions will make it easier for you to start conversations with your network while also enabling you to respond in real-time when someone begins a conversation with you.
Source: https://blog.linkedin.com/2013/04/04/start-a-conversation-by-mentioning-your-connections-on-linkedin/