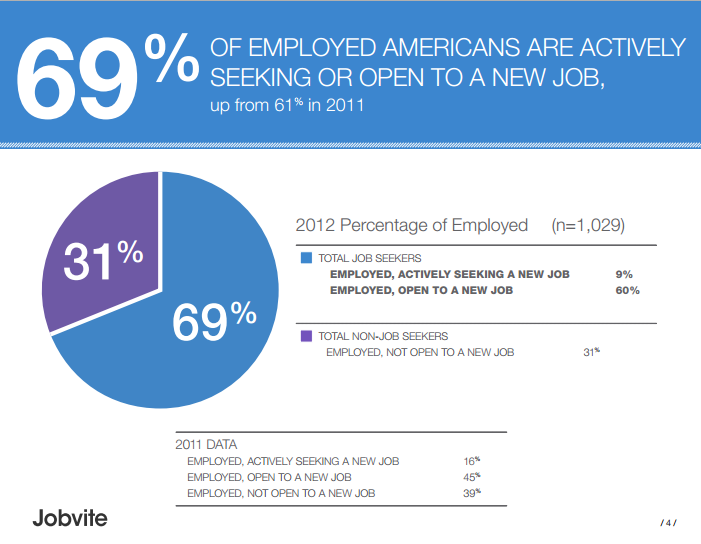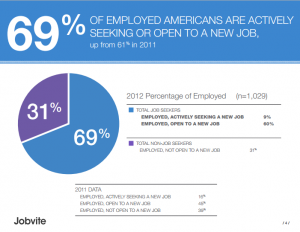 Jobvite has recently conducted a nationwide online survey of 2,108 adults, of which 1,266 adults (aged 18+) were part of the American workforce. The survey included questions on current employment status, the use of social networks to find job opportunities and attitudes about the current employment market.
Here are some of the key findings in this social survey:
75% of the American workforce is comprised of job seekers, which is up from 69% in 2011. As it pertains to this survey, job seekers are classified as individuals who are currently unemployed and looking for work or individuals who are currently employed but would be open to a new position.
69% of employed Americans are actively seeking a job or open to a new job. This statistic is up from 61% in 2011. As an executive recruitment firm, our executive recruiters contact qualified individuals with new opportunities and new job offers consistently.
When asked, "Thinking of the past year, has it been easier or harder to find a job?"  61% of the people surveyed said that finding a job has gotten harder in the past year. Gone are the days where a college degree gets you a guaranteed job. Today's economy has forced many job seekers to be creative and find different avenues for finding a job.
88% of all job seekers have at least one social networking profile, meaning they have Facebook, Twitter, or LinkedIn. Social recruiting has been gaining a lot of traction over the past couple years. Companies continually post job openings and new opportunities via social media.  Social media has allowed companies to increase their reach and easily connect with job candidates.
1 in 6 job seekers credits social media with their current job. They could have been contacted by a recruiter, or actively sought out a position via social media.  Job seeker's social media connections can play a big role in finding the right job.
"With fierce competition for jobs, which now includes a majority of employed people on top of active job seekers, social media has become a critical tool for job hunting and career growth," said Dan Finnigan, Jobvite's president and CEO.
Social media needs to become part of each company's recruitment efforts and should be part of each job seeker's game plan when finding a job. This was a very interesting survey with some valuable insight to how job seeker's go about their business.
Photo Credit: Jobvite